Working Women 45+
Are you a woman noticing signs of middle-age appearing
and haven't made friends with them yet?
Optimal Life Hacks for Working Women 45+ is a tailored program for women like you.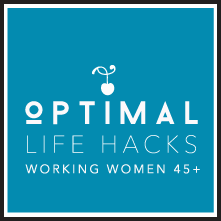 It's your go to place for resources on balancing your whole life, now and in the future.
 Do you:
Feel you're supposed to be wise by now yet not sure you are?
Want to best prepare your body for what's to come in life?
Feel your work title defines you?
Have more capacity to give back but not sure how to do it?
Reach for comfort clothes each morning? And have given up on skinny jeans?
Feel your energy level is not keeping up with all you want to do?
Want to take your career to the next level?
Undervalue all you have to offer?
Catch yourself using age as an excuse?
You're not the only one!
We give you small steps that make your life easier
and more enjoyable.
You'll learn valuable skills to maximise your
impact, feel happier and more energetic.
Optimal Life Hacks for Working Women 45+ gives you the tips, ideas and tools to:
Create healthy habits to best prepare your body mind for what's to come in life
Reclaim your body to avoid any middle-age spread
Know when you're "out of sync" and how to bring balance back into your life
Develop ways to use your skills and experience to pay it forward
Appreciate what you have, not what you don't
Sustain physical and mental wellbeing
Carve out time for yourself to do things that are important to you
Better cope with set backs and work stress
Laugh more